It's a simple fact that not everyone is born with a green thumb. Even so, some gardeners manage to pull off beautiful presentations even starting from seeds. For many, the secret is found in the use of plant lights.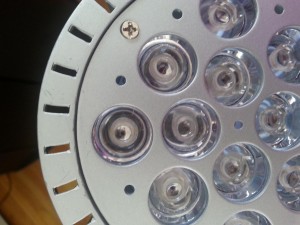 LED plant lights are designed to provide gardeners – even those without green thumbs – a boost courtesy of their ability to help better control the environment in which plants grow. LED lights created for this purpose deliver a greater edge in that they cost less to operate, use less energy and they even last longer. It all adds up to financial savings while ensuring plants get a head start courtesy of greater grower control.
Here are just three reasons why indoor plant lights of the LED variety offer an edge that can help virtually anyone grow beautiful plants:
They're affordable – Large hydroponic set up work wonders for commercial settings, but ordinary growers who just want to give their vegetable and house plant seeds a head start don't need such expensive designs. A simple plant light that works in an ordinary socket without requiring fans, ballasts or outside heat sinks, will get a small job done beautifully.
They're easy to use – Any space where pots or seeding trays will fit along with a light socket overhead will work. There's no need to create a big alteration to a home to set up an indoor growing area when simple light designs are used. This is just a faster, less complex way for backyard gardeners to get a jump on seasonal growing or indoor plant lovers to ensure their plants get the light exposure they need to thrive even when the outside sunshine isn't cooperative.
They can make anyone look like a pro – The secret to healthy plants is being able to nourish them properly. In many outdoor settings, a lot of factors get in the way of this happening. By starting seedlings inside, under more controlled conditions, the odds are stacked more greatly in a grower's favor. Those who start their plants indoors can enjoy greater control over soil quality, water exposure and light. It all adds up to a stronger, healthier plant.
Complex hydroponic set ups are great for those with big, commercial plans, but ordinary growers just don't need the hassles involves. Simple plant lights provide the power to nourish seedlings without the cost, complexity and difficulties involved in larger designs.
Learn more about our favorite LED plant light!
Learn more about our favorite LED plant light!